103. Cap open pipes and vents and support the Teton Raptor Center's Poo-Poo Project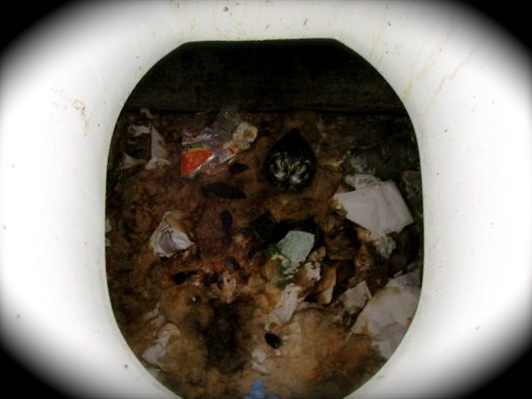 Bluebirds, woodpeckers, and other cavity-nesting birds often explore dark openings, including pipes. But if they fall into a pipe, they have no way of getting out. The Teton Raptor Center's Poo-Poo Project prevents cavity-nesting birds from entering vault toilets through the ventilation pipes and becoming entrapped in the 'basement' of vault toilets David Watson, the Poo-Poo Project Coordinator, writes:
Each year thousands of cavity-nesters, animals that prefer dark, narrow spaces for nesting and roosting, become entrapped and die in vertical open pipes such as mining claim stakes, ventilation pipes, dryer vents, fence posts, old irrigation pipes, and chimneys. Vault toilets, the self-contained restrooms found in many of America's wilderness areas, feature vertical ventilation pipes that mimic the natural cavities preferred by some species for nesting and roosting. Birds enter the vault toilet through the ventilation pipe and get stuck in the 'basement' of the vault toilet.

In 2010, Teton Raptor Center addressed this problem by installing 100 'rock' screens on the ventilation pipes of toilets throughout Grand Teton National Park, as well as Bridger-Teton, Caribou-Targhee, and Shoshone National Forests. In 2013, Teton Raptor Center created the Poo-Poo Project and developed its own Poo-Poo Screen to prevent wildlife entrapment on a national scale. The 12" Poo-Poo Screens are durable, easy to install, provide superior ventilation and are very affordable. Since 2013, TRC has distributed over 8,750 Poo-Poo Screens to more than 270 Poo-Poo Partners in 35 states.

If you are interested in bringing the Poo-Poo Project to your area please contact us for more information. We need your help to keep wildlife safe on America's public lands.
For more information about this issue, here are a couple of news stories: